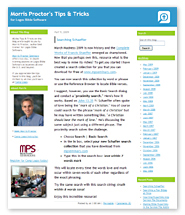 Today's guest post is from Morris Proctor, certified and authorized trainer for Logos Bible Software. Morris has trained thousands of Logos users at his two-day Camp Logos training seminars.
Logos Bible Software for Mac is off to a great start. I am getting a lot of e-mail regarding training materials for the Mac. Please visit www.mpseminars.com often because we'll be releasing new materials very soon.
Also, I am getting a lot of questions about whether Mac users should attend Camp Logos. We have prepared a special page to answer that question.
If you're a Mac user, though, here are a couple of tips that hopefully will come in handy:
When you're working in a resource window (Bible, commentary, dictionary, etc.) press the keystroke shortcut Tab (for Mac 1.2) to select the current location box. Now just type your new reference. This just saves you from having to click the mouse in the box every time you want to jump to a new location.
While you're working in your Bible software choose Libronix DLS | Preferences | Appearance to customize your system.
For more tips like this, be sure to visit Morris Proctor's Tips & Tricks blog or subscribe to the RSS feed.
Update: Logos Bible Software for Mac 1.2 Now Available! Be sure to read Thursday's blog post for details.
You should follow us on Twitter
here
.