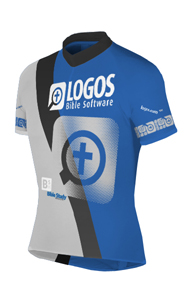 The anticipation of the yet-to-be-completed Logos Bicycle Jersey Pre-Pub didn't stop a group of Logos employees from gathering for this year's Tour de Whatcom. Even without the jersey, the Logos team looked sharp on the road as they led the peloton in both the 50- and 105-mile rides.
In order to gather more interest for the Logos jersey, Jim Straatman, our IT Manager, actually took a prototype of the Logos jersey and safety-pinned sections of it onto his regular jersey! Place your Pre-Pub order to help move it into production and soon enough, you can look for riders around the country sporting the new Logos Bible Software bicycle jerseys . . . if you can keep up. ;)
Tour de Whatcom Wrap-Up
In the century leg of the Tour, a ride spanning the same distance from the U.S./Canadian Border (Peace Arch Crossing) down to Seattle, Jim Straatman and Scott Alexander averaged almost 20 mph—good enough to finish first. For Jim, this was his first organized 100+ mile ride where several hundred people participated. And leave it to our IT Manager to capture the ride's GPS data!
For the 50-milers, it was Sean Fields, Director of Visual Design here at Logos, who finished first with an average speed of over 19 mph. The Tour has become a traditional birthday celebration ride for Sean, who remarked, "It's a great way to start off a new year of my life—a fun fast bike ride!"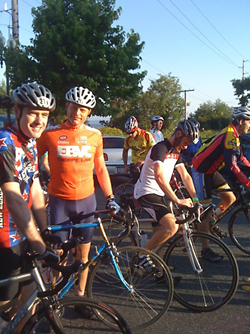 In all, nine Logos employees participated in this year's Tour:
Bradley Grainger (pictured, left): Software Development
Bryan Albert (pictured, left-center): Software Development
Jacob Carpenter (pictured, right-center): Software Development
Scott Alexander (pictured, right): Software Development
Jim Straatman: IT Manager
Sean Fields: Director of Visual Design
Allen Peterson: Software Development
David Schwegler: Software Development
Bryan Smith: Software Development
Related posts:
Bike-to-Work Day
People behind the Product: Jim Straatman
You should follow us on Twitter
here
.