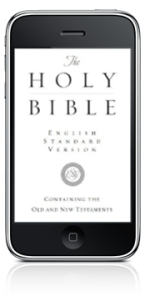 With the launch of the brand new Logos Bible Software Community Forums we have been seeing a bit of discussion on the topic of Logos Bible Software for mobile devices and ebook readers.
From multi-function devices like iPhone, Google Android, Blackberry, and Windows Mobile to dedicated readers like Amazon's Kindle, we think we have an idea of what people like—but before heading off in the wrong direction we wanted to hear from you too!
Since the forums are relatively new and haven't been discovered by most of our users yet, we wanted to bring the topic to the forefront with an open survey on Logos Bible Software for Mobile Devices to get as much feedback from as many people as possible.
If you would like your voice to be heard, this is your chance. Please take a moment to complete our simple 8 question survey about Logos Bible Software for Mobile Devices.
After you take the brief survey be sure to drop by the forums and take a look around, or start your own thread. If you have a Logos.com account, you are already registered—no need to start a whole new account and password—so take a look around and become part of the community of Logos Bible Software users all around the world today!
UPDATE: Logos is now available on the iPhone as a free app! Visit https://www.logos.com/iphone for more info.