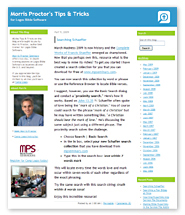 Today's guest post is from Morris Proctor, certified and authorized trainer for Logos Bible Software. Morris has trained thousands of Logos users at his two-day Camp Logos training seminars.
Have you written a paper using various Libronix e-books and now you need to create a bibliography for the paper? Libronix can help.
First, create a collection of all the books you cited in the paper. Choose Tools | Define Collections. Click New. Name your collection. Add the books to the collection.
Now, create the bibliography. Choose Tools | Library Management | Bibliography. Select the newly created Collection from the drop down list. Select the Style your professor requires. Click Generate.
Now all you have to do is Copy / Paste the bibliography to your word processor!
For more tips like this, be sure to visit Morris Proctor's Tips & Tricks blog or subscribe to the RSS feed.
You should follow us on Twitter
here
.