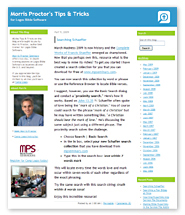 Today's guest post is from Morris Proctor, certified and authorized trainer for Logos Bible Software. Morris has trained thousands of Logos users at his two-day Camp Logos training seminars.
March Madness 2009 is now history and the Complete Works of Francis Shaeffer emerged as champion. Now that you perhaps own this resource, what is the best way to mine its riches? To get you started, I have created a search collection for you that you can download for free at www.mpseminars.com.
You can now search this collection by word or phrase or use the Reference Browser to locate Bible verses.
I suggest, however, you use the Basic Search dialog and conduct a "proximity search." Here's how it works. Based on John 13.35, Schaeffer often spoke of love being the "mark of a Christian." You of course could search for the phrase "mark of a Christian" but he may have written something like, "A Christian should bear the mark of love." He's discussing the same subject just using a different phrase. The proximity search solves the challenge.
Choose Search | Basic Search
In the In box, select your new Schaeffer search collection that you have download from mpseminars.com
Type this in the search box: love within 7 words mark
This will locate every time the words love and mark occur within seven words of each other regardless of the exact phrasing.
Try the same search with this search string: truth within 8 words total
Enjoy this incredible resource!
For more tips like this, be sure to visit Morris Proctor's Tips & Tricks blog or subscribe to the RSS feed.