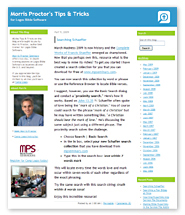 Today's guest post is from Morris Proctor, certified and authorized trainer for Logos Bible Software. Morris has trained thousands of Logos users at his two-day Camp Logos training seminars.
There are some books in your library that you need quick access to like your Preferred Bible or favorite commentary. You may get tired of going to My Library to open them so why not place them on the toolbar? That's right, put as many books as you want on the toolbar so with the click of a button the book opens.
Right click on the toolbar and select Customize and then New. Name the toolbar. With the Category Special selected, click the Command Open (Resource) and click Add. Now click Details. From the Resource line click Change. Type the name of your book in the Find box. Click the name of the book when it's displayed. Click OK. OK again and then Close.
Now click the new icon on your toolbar to open your book!
For more tips like this, be sure to visit Morris Proctor's Tips & Tricks blog or subscribe to the RSS feed.