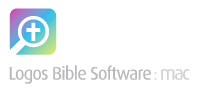 Last night we put the finishing touches on Logos for Mac 1.2 and made it live for all Logos for Mac users. As with earlier updates, version 1.2 is a free update that you can download from your Logos.com account. It's also now available for purchase as a download (the 1.2 DVD will be another week or two).
In addition to fixing a number of bugs, 1.2 adds some cool new features like Bible Speed Search, Parallel Resource Associations, printing, the ability to choose an English font, and more. Read the new support article to see the complete list of changes.
Just head over to Logos.com, sign in, navigate to My Account > Order History, and then click on the order number for your Mac engine or base package order.

At the bottom of the order page, you'll see a "Files to Download" section.

Click the "Download" link next to LogosMac1.2.dmg to save it to your Mac, and then double-click the file to install the update. Follow the instructions, and you should be up and running with the latest version in just a minute or two.
If you don't have a Logos.com account, don't see the link below your Mac order, or have any other troubles updating, please contact our Mac Customer Service team at 800-875-6467 or macsupport@logos.com.
You should follow us on Twitter
here
.