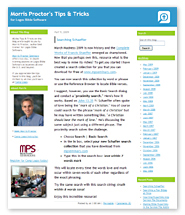 Today's guest post is from Morris Proctor, certified and authorized trainer for Logos Bible Software. Morris has trained thousands of Logos users at his two-day Camp Logos training seminars.
When you type a Bible reference or keyword in a passage box on an automated report (like the Home Page) a drop down list appears. The list contains pericope titles (or section headings) from your Bibles. Libronix is asking you if you prefer what you typed or one of the pericopes in the list.
If you never use this list you can turn it off.
Choose Tools | Bible Tools. Click Pericope Sets. Uncheck Use Pericope Titles in Reports.
For more tips like this, be sure to visit Morris Proctor's Tips & Tricks blog or subscribe to the RSS feed.