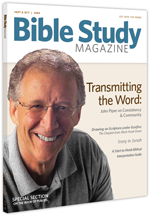 The sixth issue of Bible Study Magazine is just around the corner. We're putting the finishing touches on the last couple of articles before we hand it over to our design team to lay out and then send off to the printer.
The September–October issue looks like it's going to be one of the best yet. It features a cover story interview with pastor and theologian John Piper—and lots of other great content to help you dig deeper into the Word.
With the first year of Bible Study Magazine coming to a close, that means it is time to renew your subscription. If you've been subscribed since our inaugural issue (the November–December 2008 issue featuring Josh McDowell), the next issue is the last issue you'll receive unless you renew soon.
All you need to do is visit the Subscriptions tab in your Logos.com account and make sure that the "Auto-Renew" box is checked. Whether your subscription ends with the next issue or not, it's a good idea to make sure that you're all set to auto-renew when the time comes.
The next time your subscription is up, we'll take care of renewing for you. One less thing you need to remember to do.
You should follow us on Twitter
here
.