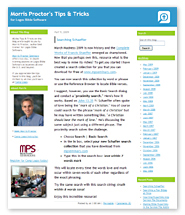 Today's guest post is from Morris Proctor, certified and authorized trainer for Logos Bible Software. Morris has trained thousands of Logos users at his two-day Camp Logos training seminars.
As mentioned in a previous blog, Logos released The John Piper Sermon Manuscript Library. Here's how to locate sermons on a particular topic or passage from the library:
After installing the sermon library click the small black arrow next to the Home icon on the toolbar
Choose Sermons from John Piper from the list of Home pages
When his Home Page opens click the Browse tab
Now you can browse his sermons by Series, Topic, Occasion, or Scripture!
For more tips like this, be sure to visit Morris Proctor's Tips & Tricks blog or subscribe to the RSS feed.