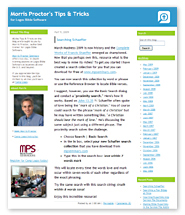 Today's guest post is from Morris Proctor, certified and authorized trainer for Logos Bible Software. Morris has trained thousands of Logos users at his two-day Camp Logos training seminars.
From My Library you can initiate a search in all of the books by a particular author.
Right click on an Author's name like Chambers. Select Search All These Resources. When the search dialog opens enter your search query and click Search.
Now you can see what any author including Oswald Chambers has to say about a word, phrase, topic, or Bible verse.
For more tips like this, be sure to visit Morris Proctor's Tips & Tricks blog or subscribe to the RSS feed.