We do our best to listen to our users through a variety of channels: comments you leave here on the blog, emails you send to suggest@logos.com, suggestions you share in our newsgroups—and now in our new web forums—and many more. We read all user feedback and make sure it gets to the appropriate department for consideration. Some of our best ideas come from our users.
Thank you for letting your voice be heard. Listening to what you want helps us to provide you with the best Bible software in the world.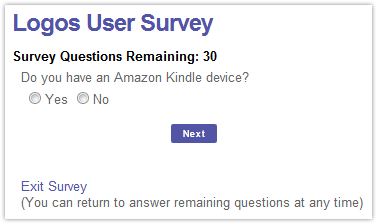 We also benefit by learning more about you. Are you a pastor, a professor, a student? Do you know Greek and Hebrew? Do you own a Kindle? This kind of information is vital as we make decisions about products to offer, technologies to pursue, and much more.
Over the years we've asked survey questions in the sidebar on Logos.com. We've recently added some new questions and put them all in one place. If you've never answered our survey questions, or it's just been a while, visit www.logos.com/usersurvey and answer as many as you want.
There are 39 questions in total (you may see fewer if you've answered some in the past), and you can quit at any time and return later to pick up where you left off. You're free to skip the ones that don't apply or that you just don't want to answer. Get started with the Logos User Survey now.