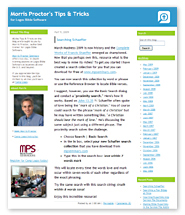 Today's guest post is from Morris Proctor, certified and authorized trainer for Logos Bible Software. Morris has trained thousands of Logos users at his two-day Camp Logos training seminars.
If you find helpful articles on the web you can place links to them right in a note file.
Open to any place on the web
Right click in the address bar of your internet's browser and select Copy
Right click in the text area of a Libronix note file and select Paste
If the pasted address is not automatically hyperlinked then click the Tag References as Hyperlink icon on the note file formatting toolbar
If you want you can now change the text of the pasted address which is usually pretty long. Just select (highlight) the pasted address and type in any new text. The new text will still link to your website.
For more tips like this, be sure to visit Morris Proctor's Tips & Tricks blog or subscribe to the RSS feed.