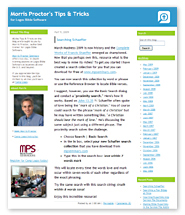 Today's guest post is from Morris Proctor, certified and authorized trainer for Logos Bible Software. Morris has trained thousands of Logos users at his two-day Camp Logos training seminars.
When you generate a Passage Guide (PG) report, one of the sections you may see is Biblical People (BP). BP is an automated report that displays a relationship graph of anyone mentioned in your passage.
To open the report just click one of the ovals (nodes) containing someone's name. The report builds for the name of the person you clicked.
To copy this image to another program like PowerPoint right click in a blank white area near the BP reportand select Copy. Go to the other program and Paste the image (Ctrl + V).
For more tips like this, be sure to visit Morris Proctor's Tips & Tricks blog or subscribe to the RSS feed.