By default, searching a Bible for multiple terms will find those words or phrases only when they occur in the same verse. So a search for grace "in Christ" in the ESV will return all of the verses where the word grace and the phrase in Christ occur in the same verse (i.e., Rom 3:24; 1 Cor 1:4; Eph 2:7; Col 1:2; 1 Tim 1:14; 2 Tim 1:9; 2:1; 1 Pet 5:10), but won't return the places where one of the search terms occurs in the preceding or following verse, even if that verse is part of the same sentence (e.g., Eph 1:1–2, 3–6, 7–10, etc.). That's because the default search unit is verses, as you can see in the image below.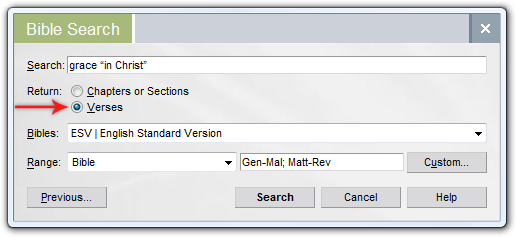 Normally you'll get plenty of targeted search results this way, but sometimes you may want to see results that cross verse boundaries, especially when a sentence spans several verses. Getting more results is as simple as switching the search unit from "Verses" to "Chapters or Sections."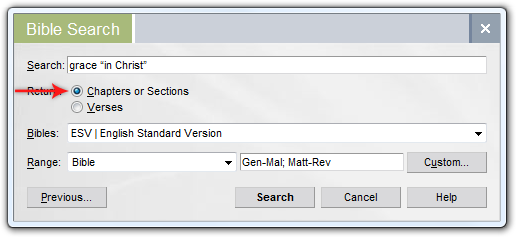 Our search for grace "in Christ" now turns up 116 occurrences in 28 articles instead of 16 occurrences in 8 verses. But this may be too broad, since it will return chapters where grace and in Christ occur nowhere near each other and are contextually unrelated. To tighten it up a bit, simply add a proximity delimiter like 25 words. So our search would be grace WITHIN 25 WORDS "in Christ". This search returns 37 occurrences in 16 articles and gives us several additional targeted results to work through.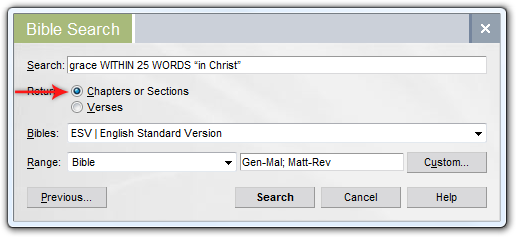 For more help on searching, be sure to read our training article "Exploring Logos Searching."