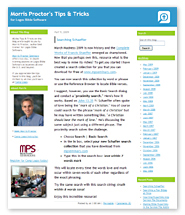 Today's guest post is from Morris Proctor, certified and authorized trainer for Logos Bible Software. Morris has trained thousands of Logos users at his two-day Camp Logos training seminars.
SermonCentral.com is a website containing thousands of sermons and illustrations contributed by people from around the world. The Libronix automated report called the Passage Guide automatically searches this site for sermons about your specific passage.
On the Home Page enter a passage in the Study Passage box and click Go. When the Passage Guide opens look for the section named SermonCentral.com containing links to specific sermons on the site.
If SermonCentral.com does not appear on the Passage Guide complete these steps:
Click the Properties icon on the Passage Guide toolbar. Make sure in the Web Resources section that SermonCentral.com is checked.
If this section does not appear in Properties, then please update the Libronix software by choosing Tools | Libronix Update.
For more tips like this, be sure to visit Morris Proctor's Tips & Tricks blog or subscribe to the RSS feed.