Last Friday Logos participated for the fourth time in the annual Trivia Bee sponsored by the Whatcom Literacy Council. There were 28 teams, and for the first time we made it all the way to the finals. We ended up placing 5th overall, beating out teams of librarians and engineers. I hear that our team has their sights set on 1st place for next year's contest.
Ken Smith, the head of our Electronic Text Development department and a former team member, was this year's coach. Team members were software developer James Van Noord, who has participated every year, and first-timers Heather Anderson and Isaiah Hoogendyk, both of whom work in ETD.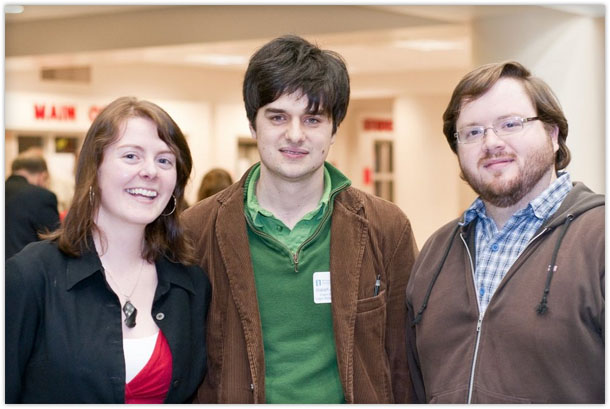 All three of this year's team members are originally from Lower Michigan, so they decided to call themselves the Trolls (see Wikipedia for details).
Jeopardy champ Ken Jennings participated again this year as the lifeline. Each team could buy up to 3 lifelines. If the team didn't know an answer, they could substitute Ken's answer for their own. If he got it right, their team got it right. I'd guess that going with the answer of a guy who won 74 times in a row on Jeopardy was a pretty safe bet!
Here are some pictures of the event, courtesy of of former Logos employee Mark French.