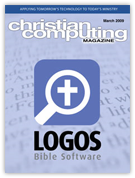 If you don't regularly read Christian Computing Magazine (CCMag for short), you'll want to be sure to check out the cover story of the March issue: "An Inside Look at Logos Research Systems, Inc. and Logos Bible Software." You'll find it on pages 9–12.
Steve Hewitt interviews Dan Pritchett, our Vice President of Marketing and Business Development, and covers a very nice spectrum of topics. You'll learn a bit of the company's history and find out some interesting facts about how the company has grown and changed over the last 18 years. You'll also read about many of the things we've been working on recently. If you look carefully, you might even learn about some things coming down the pike that have never been shared publicly before.
So go give it a read.