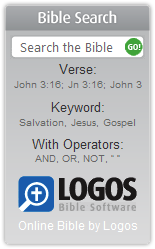 If you have biblical content on your website or blog, you'll definitely want to consider adding the new Bible Search Bar to your sidebar. RefTagger allows your readers to have instant access to the Bible passages that you cite in your post, but what if they want to look up a verse that you don't mention or launch a search for a word or phrase that you discuss? They could manually navigate to Bible.Logos.com, but the Bible Search Bar makes it even easier for your readers to find what they're looking for.
The Bible Search Bar comes in two sizes, the one you see pictured to the right, which is also in the sidebar of the Logos blog, and a smaller one with horizontal orientation.
It's very easy to add to your site. Just grab the code that we provide and paste it into your sidebar, or wherever you'd like the Bible Search Bar to appear. If you have trouble getting the styles to show up properly, you may need to add the styles to your sites style sheet or paste the style sheet link in the head section of your template.
Head on over to the new Bible Search Bar page at Bible.Logos.com to see the two options, grab the code, and get it set up on your site.