If you do a lot of academic research and writing, you're probably familiar with software like Endnote, Nota Bene's Ibidem, and Zotero, all of which allow you to manage your research sources and easily insert footnotes or endnotes and build bibliographies based on the sources you cite.
I haven't used Endnote or Ibidem, but I just started using Zotero, which comes in the form of a free Firefox plugin, and it looks like it is going to be very handy.
When trying to decide whether or not to use Zotero, two (related) problems I faced were (1) how Zotero would integrate with my Libronix library, where I do the bulk of my research and citing, and (2) how I would get all of my Libronix sources imported into my Zotero database.
If you use Zotero, you have to let it handle all of your citation footnotes, otherwise it won't be able to automatically convert citations to the shortened form or to ibid where appropriate. As you know, Libronix automatically adds footnotes into several word processing programs, but if you use Zotero, you'll have to recreate the footnotes with Zotero. That sounds like a lot of work, but the solution is fairly simple. All you need to do is export your Libronix library (a portion of it or the entire thing) into Zotero.
Open the Bibliography tool by going to Tools > Library Management > Bibliography. Select the collection that you'd like to export, and set the style to BibText Style, which Zotero supports.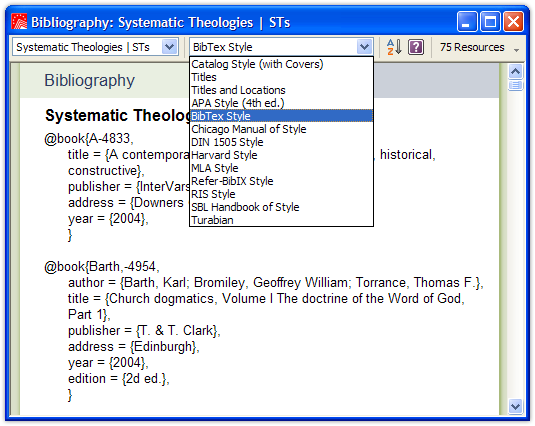 After the report finishes generating, go to File > Export and save the report as a text file. (If you're using Logos for Mac, just copy the contents of the report and paste them into a text file.)  You can then import this file into Zotero. If you're dealing with thousands of resources, the import process may take a while, so be patient.
Now when you paste quotations from Libronix into your word processor, you can simply delete the footnote that automatically appears and quickly reinsert the citation with Zotero.