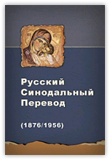 Do you read Russian, want to learn to read Russian, know someone who reads Russian, or just like free books (even if you can't read them :))?
Then head on over to Logos.com and check out the free Русский Синодальный Перевод (that's Russian Synodal Translation for you English-only readers), which just went up on Friday.
The RST was translated in 1876 and revised in 1956. Our edition has the Strong's numbering system integrated for the entire Bible. That means you can simply hover over a word and see the Greek, Hebrew, or Aramaic word in a pop-up window (if you have a dictionary with Strong's tagging like the Dictionaries of Biblical Languages w/ Semantic Domains, which are included in all of our base packages, except for Christian Home).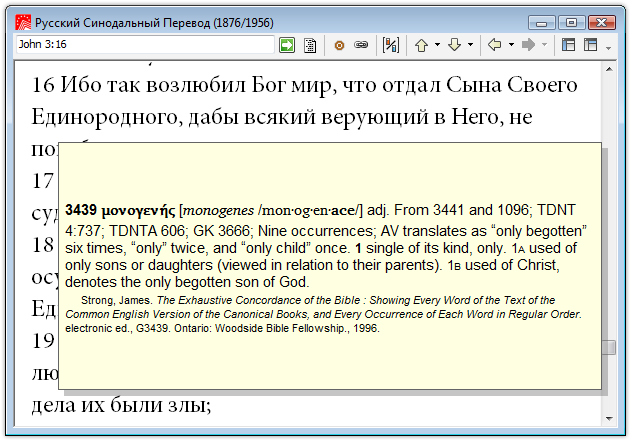 Those of you who have purchased from us before know the ropes. But if this is your first time, or if you just need a little refresher, then keep reading. Otherwise, just go download it and spread the word!
To purchase a book (or get a free book) from Logos.com, you'll need three things:
a copy of the Libronix Digital Library System installed on your PC or Mac
a Logos.com account with a credit card on file
a Libronix Customer ID that is connected to your Logos.com account
Here are the steps you need to follow to get all set up:
Step 1: Download and install Libronix for Windows. (Mac users can purchase the Mac version of the engine, or buy a Mac base package.) If you already have Libronix up and running on your computer, jump to the third step.
Step 2: Activate Libronix. When you do, you'll create a Libronix Customer ID (usually your email address, if you enter it). You can find your Libronix Customer ID by going to Help > About Libronix DLS.
Step 3: Create a Logos.com account. If you already have one, just log in.
Step 4: Make sure that your Libronix Customer ID is associated with your Logos.com account. Go to My Account, enter your Libronix Customer ID from Step 2, and click "Confirm." If it's already there, no need to do anything.
Step 5: "Buy" the Russian Synodal Translation. Go to the page and click "Add to Cart," or just add it straight to your cart from here. Proceed through the checkout process and then click "Submit Order." If you don't have a credit card on file, you'll need to enter your credit card information. Don't worry. You won't be charged. It's an unfortunate inconvenience in our current checkout system, and we hope to change it at some point.
Step 6: Unlock and download your new book. If you're on a Windows machine, just click the orange "Unlock & Download" button. If you're on a Mac, just synchronize your licenses (Tools > Library Management > Synchronize Licenses) and manually put the book file in your resources folder (Macintosh HD/Library/Application Support/Libronix DLS/Resources on the startup volume).
Step 7: Start using your new book! Open Libronix, open My Library, then type RST to find it. Since the title is in a different script, you'll find it all the way at the bottom. Double-click it to open it.
Enjoy!
Have any Russian-speaking friends? Let them know how they can get a Russian Bible for free!