One of my favorite features of the Libronix Digital Library System is the ability to link from emails, Word documents, PDFs, blog posts, PowerPoint presentations, etc. to just about anything in Libronix. I've blogged about this feature before, so I won't go into the details here. If external linking is new to you, be sure to give the post a read.
The one downside to linking to Libronix from Microsoft Office applications like Word and PowerPoint is that you get that pesky security warning every time you click a Libronix link.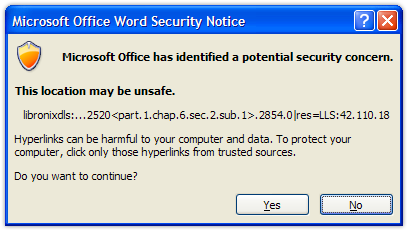 Since there is no security threat at all, there's nothing to worry about. You can just click "Yes" every time it pops up. But if you use external linking often, you may want to permanently disable it. It's not incredibly difficult to do, but it's not for the novice either. If you feel comfortable editing your registry, check out the appropriate support article for the details:
After a few short steps, the warning messages will be gone for good. Ah, much better.