One of the benefits of shopping online is the ability to get help from other customers when you're making purchasing decisions. Amazon.com illustrates this well with their product reviews and product recommendations based on the purchasing habits of other Amazon.com shoppers.
For a while we've given you some purchasing guidance with our Top 10 Lists and Product Guides. We're excited to add another source of information that will help you decide what to buy next.
Now at the bottom of every product page, you'll find a list of products that other customers who bought the item you're looking at also bought. We show you the top three, but you can see the top 10 by simply clicking more ».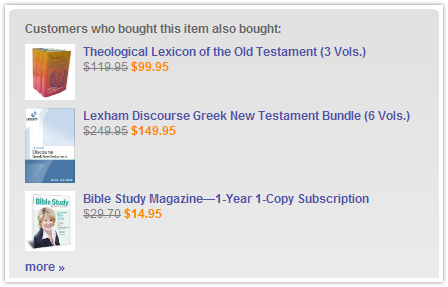 In case you forget (or don't want) to scroll to the bottom of the page, we've added a link at the top of each page that says, "Browse similar products." Clicking it will jump you right to the bottom where you can explore and find all sorts of additional titles to add to your library.
For now we've put this new functionality in place only for currently shipping products, but you may eventually see it on Pre-Pub product pages as well.
Well, go give it a try, and let us know what you think. As always, we love to hear your feedback.