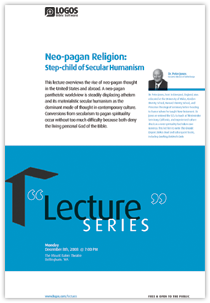 Today's guest blogger is Adam Navarrete, who works in the marketing department here at Logos.
As the 2008 Logos Lecture Series comes to a close, I would like to personally thank our loyal attendees for making the lectures a wonderful time. Our final lecture for 2008 is only days away—so I invite you to join us this Monday!
Dr. Peter Jones of truthXchange will be speaking about the upsurge of neo-paganism.
With an overview on the rise of neo-pagan thought in the United States and abroad, Dr. Peter Jones shows that a neo-pagan pantheistic worldview is steadily displacing atheism and its materialistic secular humanism as the dominant mode of thought in contemporary culture. He'll argue that conversions from secularism to pagan spirituality occur without too much difficulty because both deny the living personal God of the Bible.
Please note that this lecture will be held at the Mount Baker Theater in Bellingham, WA.
Event Details
Date: Monday, December 8th
Time: 7:00 PM
Title: "Neo-pagan Religion: Stepchild of Secular Humanism"
Speaker: Dr. Peter Jones
Location: Mount Baker Theatre in Bellingham, WA
Admission: FREE!
About This Month's Speaker
Dr. Peter Jones, born in Liverpool, England, was educated at the University of Wales, Gordon Divinity School, and Harvard Divinity School. In 1971, he married and was a Ph.D. candidate at Princeton Theological Seminary before heading to France where he taught New Testament. There he also wrote, spoke, and helped start a Christian school and a church. Invited to teach at Westminster Seminary, California, Dr. Jones re-entered the U.S. where he experienced culture shock as a new spirituality had taken over America. This led him to write The Gnostic Empire Strikes Back. Dr. Jones is currently executive director of truthXchange.
His writings include Gospel Truth, Pagan Lies, The God of Sex: How Worldview Determines Sexuality, and Capturing the Pagan Mind. He also co-authored Cracking DaVinci's Code and followed up with Stolen Identity: The Conspiracy to Reinvent Jesus.