Today's guest blogger is Adam Navarrete, who works in the marketing department here at Logos.
I want to thank everyone that came out to our last lecture with Arnold Fruchtenbaum—it was a packed house! Can you believe that it's time for another lecture already? I am really excited about this lecture as I have heard nothing but great things about Professor Zylstra—and the topic looks to be quite interesting: "Understanding Radical Islam."
About the Lecture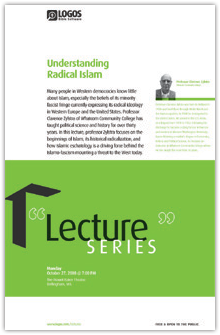 Many people in Western democracies know little about Islam, especially the beliefs of some of its minority groups. Professor Clarence Zylstra of Whatcom Community College has taught political science and history for over thirty years. In this lecture, professor Zylstra focuses on the beginnings of Islam, its historical radicalization, and how Islamic eschatology is a driving force behind the Islamo-fascism mounting a threat to the West today.
About This Month's Speaker
Professor Clarence Zylstra was born in Holland in 1930 and lived there through World War II and the Nazi occupation. In 1948 he immigrated to the United States. He served in the U.S. Army as a linguist from 1951 to 1952. Following his discharge he became a dairy farmer in Everson and student at Western Washington University. Upon obtaining a master's degree in Economics, History and Political Science, he became an instructor at Whatcom Community College where he has taught for more than 30 years.
Event Details
Title: "Understanding Radical Islam"
Speaker: Professor Clarence Zylstra
Date: Monday, October 27
Time: 7:00 PM
Location: Mount Baker Theatre in Bellingham, Washington
Cost: Admission is free!
There's just one lecture left before 2009! Check the lecture page for updated information.
Hope to see you there on Monday night!