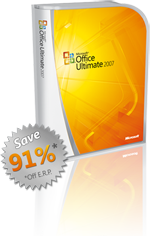 This doesn't have much to do with Logos Bible Software, but it's too good of a deal not to pass on to you.
Microsoft is again offering Office Ultimate 2007 for only $59.95! It retails at $679.95, so this is a savings of more than 91%.
Ultimate includes these 10 programs:
Word 2007
Excel 2007
PowerPoint 2007
Outlook 2007
OneNote 2007
Groove 2007
Publisher 2007
Access 2007
InfoPath 2007
Accounting Express 2008
That's only $6 per program!
There are two stipulations for qualifying:
You must have a .edu email address.
"You must be a student at a U.S. educational institution and must be actively enrolled in at least 0.5 course credit and be able to provide proof of enrollment upon request."
While there are a couple of good Office competitors out there, Office is still the standard and it integrates best with Logos (e.g., Bible reading schedules in Outlook, search results in Excel, and copying and pasting text with auto-citations into Word).
If you're a student and don't have Office, you should definitely give this a look.
Looks like starting September 8 you can also grab the upgrade to Vista Ultimate SP1 for only $64.95 (retails at $239.99).