Today's guest blogger is Adam Navarrete, who works in the marketing department here at Logos.
The Logos Lecture Series is back in action after taking a month off. Tomorrow, September 24, we will host Dr. Arnold Fruchtenbaum of Ariel Ministries, who will be speaking on "The Basis of the Second Coming." Make a point of joining us at 7:00 PM at the American Museum of Radio and Electricity here in Bellingham, Washington.
About the Lecture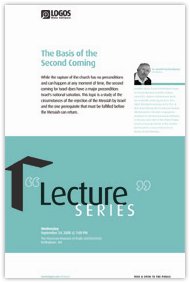 While the rapture of the church has no preconditions and can happen at any moment of time, the second coming for Israel does have a major precondition: Israel's national salvation. This topic is a study of the circumstances of the rejection of the Messiah by Israel and the one prerequisite that must be fulfilled before the Messiah can return.
About the Speaker
Arnold Fruchtenbaum is the author of books such as Jesus Was a Jew, Messianic Christology, and Hebrew Christianity, among many others. He began his formal education at Shelton College, earned B.A. degrees in Hebrew and Greek from Cedarville University, his M.T.S. from Dallas Theological Seminary, and a Ph.D. at New York University. Dr. Fruchtenbaum has lived and worked with the messianic congregation in Jerusalem, ministered for the American Board of Missions to the Jews, was editor of The Chosen People, served as Associate Director of the world's largest Messianic Jewish broadcasting ministry at The Christian Jew Foundation, and currently serves as Director of Ariel Ministries.
Event Details
Title: The Basis of the Second Coming
Speaker: Dr. Arnold Fruchtenbaum of Ariel Ministries
Date: Wednesday, September 24
Time: 7:00-8:00 PM
Location: The American Museum of Radio and Electricity in Bellingham, Washington
Admission is free!
For those who are unable to attend the lecture, we hope to make the audio available within a few days of the event.
By the way, be sure to check out our collection of books from Dr. Fruchtenbaum in the Ariel Ministries Messianic Collection (11 Vols.).
To get you thinking about our next lecture, our guest will be local professor Clarence Zylstra of Whatcom Community College. He will present his topic, "Understanding Radical Islam," on Monday, October 27. Please check the Lecture Series page, which we'll keep updated as more information becomes available.