I was surprised when I saw some stats on the number of people not running the latest version of Libronix (i.e., 3.0e). The numbers are even more surprising when you consider that updating Libronix to the latest version is entirely free and very easy to do.
Who's Up to Date (and Who's Not)?
Most of you are running the latest version, but a sizable group are still running a version that has been outdated for months or even years. Here are the numbers.
Current Version | 70.89%
Outdated Versions | 29.11%
3.0d | 18.16%
3.0c | 5.98%
3.0b | 2.29%
3.0 | 1.59%
3.0a | .93%
Expired Betas | .16%
How to Find Out Which Version You Have
With Libronix opened, go to the "Help" menu and click "About Libronix DLS."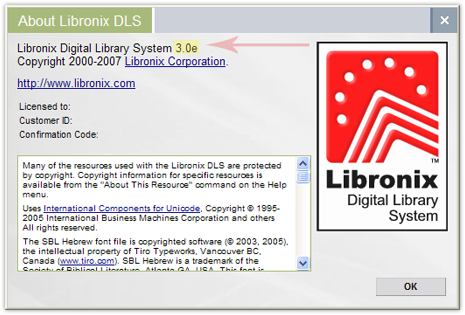 You'll find the version that you have installed right at the top towards the middle. If it doesn't say 3.0e, it's time to update.
How to Update
Updating to the latest version of Libronix is easy to do. There are (at least) five ways to do it:
Update in Libronix: With Libronix opened, go to the "Tools" menu and click "Libronix Update." Install all Required and Recommended items. If you have an internet connection, this is the easiest and best way to get updated.
Update from Logos.com: You can also update to the latest version from our website: https://www.logos.com/support/downloads/ldls. Click the orange "Update" button and follow the instructions. (Or just run this script: https://www.logos.com/media/update/30eAutoUpdate.lbxupd.)
Update from a Media Only DVD or CDs: If you'd rather not update via the internet, you can order a media only DVD (or CDs) to get the latest version of Libronix and of most of your book files.
Upgrade Your Base Package: All of our base packages come with the latest version of Libronix, plus lots of new addins, tools, and resources! Visit https://www.logos.com/upgrade to see your upgrade options.
Update from Any Recent Product: All CD/DVD products with an official release date after February 1, 2008 should include 3.0e on them. If you've purchased a new product recently or have one coming soon, you can update to 3.0e that way.
For a list of new features in 3.0e, see the previous post "Update to Libronix DLS 3.0e."