We strive to produce very high quality digital books, but typos do creep in sometimes. With the help of our attentive users and our typo reporting tool (Help > Report Typo), our electronic text development department is often able to get these typos fixed and new files added to our FTP site. You'll find them at ftp://ftp.logos.com/lbxbooks/.
Why Should You Update?
Updating your resources is good for you and us. It gives you more accurate resources with better functionality, and it also helps to eliminate typo reports on outdated resources.
How Do You Updated?
The simplest way to get the latest files for your books is to run the Resource Auto Update script: https://www.logos.com/media/update/ResourceAutoUpdate.lbxupd. Simply click this link and choose "Open" if your browser gives you an option.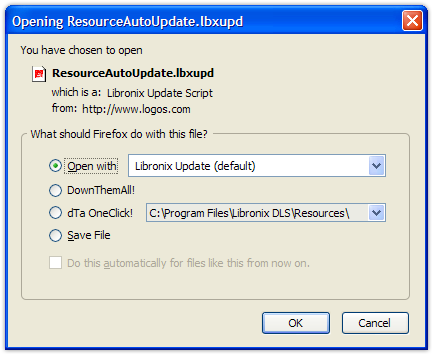 Libronix Update will scan the resources on your hard drive and then give you a list of resources that are outdated.
You could check the box next to Resources to download all of the updates, but if this is your first time running the Resource Auto Update script (or you haven't run it in a while), you might want to look at the "Total Download" size before you hit "Update."
My update is 159.30 MB, and since I have a very fast connection here at work, this won't take long at all. But if you're on a slower DSL or dial up connection, this could take several hours. If you're uncertain of your connection speed or how long it might take, the best approach would be to download them a handful at a time so you can gauge how long it's going to take. Check half a dozen boxes and try a smaller download first. Then repeat the process until you're done with all of them. (Note: you'll need to start Libronix in between each session or else you'll be prompted to download the same resources you just download.)
When it completes the download, you'll be prompted to close Libronix (if it was opened). After it finishes, you can start Libronix and begin using your newly updated books.
Bookmark This!
We recommend that you run this at least once a month. To remember this link for later, just right-click on it and select "Add to Favorites" (Internet Explorer) or "Bookmark This Link" (Firefox). You'll also find this link at the bottom of this page: https://www.logos.com/support/download/30bupdate, which is accessible from the Support section of our website (Support > Download the Latest Version > Update).