I'm a book lover. While I prefer the digital kind, I still love the print ones too. Whenever I visit another book lover's home, my eyes are almost irresistibly drawn to his bookshelves.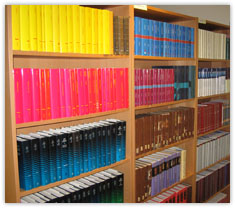 As you can imagine, we have thousands of print books around the office. My wife works over in the Electronic Text Development department, and I'm always peeking at the bookshelves to see what's new when I go over to meet her for lunch.
In the last week or two, we've had several big shipments of books that have really gotten me excited. The shipments weren't quite as big as the ones we got from T&T Clark a couple of years ago, but they contained some excellent books that I know many of you will be as thrilled about as I am. I wish I could tell you more, but I don't want to ruin the surprise.
You have probably noticed that it's been fairly quiet on the Pre-Pub page over the last couple of weeks, but that's about to change very soon. Stay tuned!