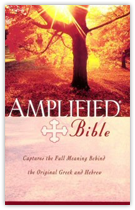 Users have asked often about the Amplified Bible, but we've never been able to offer it as an individual download—until now. As of last Friday, you can purchase the Amplified Bible as a standalone product.
For those of you not familiar with the Amplified Bible, it's distinguishing feature is how it gives alternate ways to translate words and phrase and explanatory notes right in the text in parentheses and brackets.
Compare 1 John 1:9 in the Amplified Bible to the ESV:
ESV
If we confess our sins, he is faithful and just to forgive us our sins and to cleanse us from all unrighteousness.
Amplified Bible
If we [freely] admit that we have sinned and confess our sins, He is faithful and just (true to His own nature and promises) and will forgive our sins [dismiss our lawlessness] and [continuously] cleanse us from all unrighteousness [everything not in conformity to His will in purpose, thought, and action].
For a limited time, we're offering a special 50% discount to our blog readers. Use coupon code AMPLIFIED during checkout, and we'll cut the price in half. The coupon code is valid through July 31, 2008, so don't miss out.