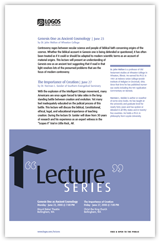 The Logos Lecture Series is back already with what might be our biggest event yet! On Friday, June 27 Dr. Norm Geisler will present "The Importance of Creation" at Christ the King Church in Bellingham, Washington. The lecture is free to attend—you don't even need a ticket to get in.
Here's a quick description of what Dr. Geisler will be covering.
"With the explosion of the Intelligent Design movement, many Americans are once again forced to take sides in the long-standing battle between creation and evolution. Yet many feel inadequately educated on the judicial process of this battle. This lecture will discuss the biblical, Constitutional, ethical, legal, and educational importance of teaching creation. During the lecture Dr. Geisler will draw from 30 years of research and his experience as an expert witness in the "Scopes II" trial in Little Rock, AR."
Norman L. Geisler is author or coauthor of some sixty books, including The Baker Encyclopedia of Christian Apologetics and his four-volume Systematic Theology. He has taught at the university and graduate level for nearly forty years and has spoken or debated in all fifty states and in twenty-five countries. He holds a Ph.D. in philosophy from Loyola University and now serves as president of Southern Evangelical Seminary. A few of Dr. Geisler's works are also available for Logos Bible Software. Titles include Norman L. Geisler's Systematic Theology (4 Volumes), The Norman L. Geisler Apologetics Library, I Don't Have Enough Faith to be an Atheist, and A General Introduction to the Bible.
Event Details
"The Importance of Creation"
Dr. Norman L. Geisler
June 27, 2008 at 7:00 PM
Christ the King Church in Bellingham, Washington
If you are able please join us at the lecture. After all, it's not every day one of the biggest names in apologetics rolls into Bellingham.