It's time for another Logos Lecture Series event. This one features Dr. John Walton of Wheaton College, who will be speaking on "Genesis One As Ancient Cosmology." If you're in the area, join us at 7:00 PM on Monday, June 23, at the Mount Baker Theatre here in Bellingham, Washington.
About the Lecture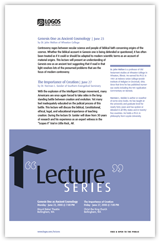 Dr. Walton will be discussing the controversy that rages between secular science and people of biblical faith concerning the origins of the cosmos. Whether the biblical account in Genesis 1 is being defended or questioned, it has often been treated as if it could or should be adapted to modern scientific terms as an account of material origins. In this lecture Dr. Walton will argue that reading Genesis 1 as an ancient text resolves the presumed problems that are the focus of modern controversy.
About the Speaker
Dr. John Walton is a professor of Old Testament studies at Wheaton College in Wheaton, Illinois. He earned his Ph.D. in 1981 at Hebrew Union College-Jewish Institute of Religion in Cincinnati, Ohio. Since that time he has published numerous works through Zondervan and Baker publishing houses including the Expositor's Bible Commentary on Jonah, NIV Application Commentary on Genesis, and Obadiah-Jonah: A Bible Study Commentary.
Event Details
Title: "Genesis One As Ancient Cosmology"
Speaker: Dr. John Walton of Wheaton College
Date: Monday, June 23
Time: 7:00-8:00 PM
Location: Mount Baker Theatre in Bellingham, Washington