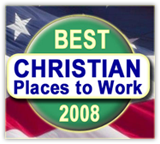 Logos has been named a "Best Christian Workplace in the United States" for 2008 by the Best Christian Workplaces Institute (BCWI). BCWI awarded workplaces in six different categories based on surveying more than 7,800 employees in 67 organizations across the US. The survey consisted of 50 questions in categories like job satisfaction, Christian witness, supervisory effectiveness, teamwork, personal growth and development, etc.
Among the other Best Christian Workplaces were The Master's College and Seminary, Harvest House Publishers, and Crown Financial Ministries. The complete list of the Best Christian Workplaces of 2008 is available at the BCWI website.
As I approach six months here at Logos, I'd have to agree that Logos is a wonderful place to work. The people, the product, and the mission of Logos make working here a joy. There aren't any jobs listed on the jobs page currently, but check back for future openings.