Terry Cook, one of our users and a regular in our newsgroups, just completed a project that he's been working on for the last 23 months: diagramming the Greek text of the entire letter of Paul to the Galatians.
He's annotated his diagrams with grammatical notes, including insights from some of the major Greek grammars available in Libronix. He has grouped his diagrams into these six sections following the major paragraph breaks of the NA27:
Galatians 1
Galatians 2
Galatians 3:1-4:7
Galatians 4:8-5:1
Galatians 5:2-26
Galatians 6
I asked Terry if he'd mind if we made his work available to you, our blog readers, and he said that he would be very happy to share it.
To view these diagrams in Libronix, you'll need to download this zip file, extract the six files, and put them in your \My Documents\Libronix DLS\SentenceDiagrams folder. If the SentenceDiagrams folder does not exist, simply create it from the File menu or right-click menu.
Then, with Libronix opened, go to File > Open (or Ctrl + O), select Sentence Diagrams from the Types column and one of the diagrams from the Documents column.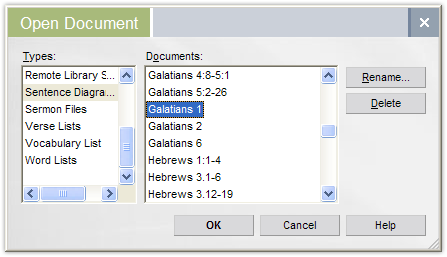 Here's an example of his diagram of Galatians 5:17.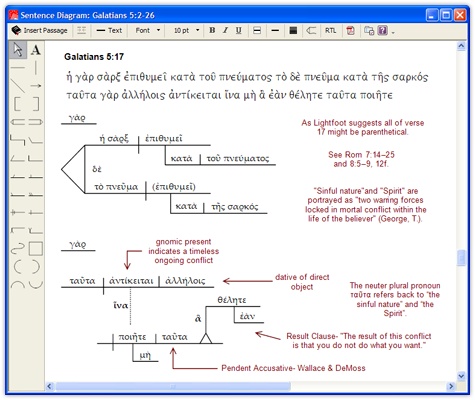 Download them, and give them a look. Perhaps Terry's work will inspire you to start doing some diagramming of your own!