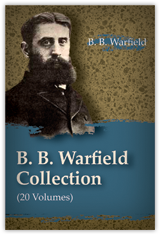 Yesterday afternoon a long-awaited B. B. Warfield Collection appeared on Pre-Pub. If you haven't noticed yet, we've been systematically looking at some of the gaps in what we offer from some of the most important figures in church history and doing our best to fill them. The ever important Works of John Owen and Works of Jonathan Edwards were put on Pre-Pub in March, and both are now under development. (If you missed them, it's not too late to pre-order them at the reduced Pre-Pub price.) With enough pre-orders the B. B. Warfield Collection will soon join them.
Our collection includes the standard 10-volume Works of Benjamin B. Warfield, along with 10 other titles. Here's the complete list:
The Works of Benjamin B. Warfield
Vol. 1: Revelation and Inspiration
Vol. 2: Biblical Doctrines
Vol. 3: Christology
Vol. 4: Studies in Tertullian and Augustine
Vol. 5: Calvin and Calvinism
Vol. 6: The Westminster Assembly at Work
Vol. 7: Perfectionism, Part 1
Vol. 8: Perfectionism, Part 2
Vol. 9: Studies in Theology
Vol. 10: Critical Reviews
Other Titles
Are They Few that Be Saved?
The Canon of the New Testament: How and When Formed
Counterfeit Miracles
Faith and Life
An Introduction to the Textual Criticism of the New Testament
The Lord of Glory
The Plan of Salvation
The Power of God unto Salvation
The Right of Systematic Theology
The Saviour of the World
That's more than 7,100 pages of Warfield's most significant writings. And, of course, Bible references and many other important citations of additional resources in Libronix will be linked, making the study of Warfield more advanced than ever before.
D. Martyn Lloyd-Jones said of Warfield, "His mind was so clear and his literary style so chaste and lucid that it is a real joy to read his works and one derives pleasure and profit at the same time."
To learn more about Warfield and his writings and to place your order, visit the product page.