I've heard from several of our RSS subscribers recently who wish that they knew who the authors were for each of the blog posts. Most people find it helpful to know who they're reading. A post from Bob, for example, carries more weight than a post from anyone else in the company.
This isn't a problem for those of you who read the blog by visiting https://blog.logos.com/. So the simple solution is to click the link to the site and look at the bottom of the post.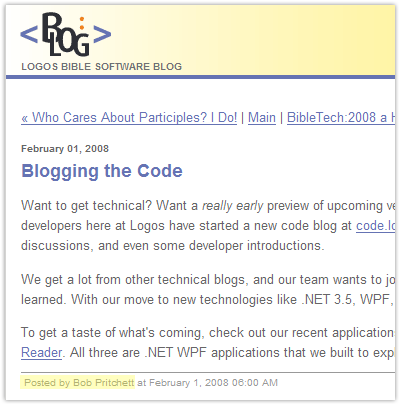 Keep in mind that sometimes the person who posts the entry is not the author. We often have contributions from others in the company who don't have a blog login set up. So make sure to look at the very beginning of the post to see if you're reading something from one of our guest bloggers.
Most people who are subscribed to our RSS feed probably aren't going to be satisfied with the first solution of simply visiting the site. One of the reasons for RSS is not to have to visit the sites you want to keep up with. So I did a little digging as to why some of our RSS subscribers were not seeing the post author, and I think I found the answer. If you happened to be subscribed to the old feed https://blog.logos.com/index.xml, you are probably not seeing the post author.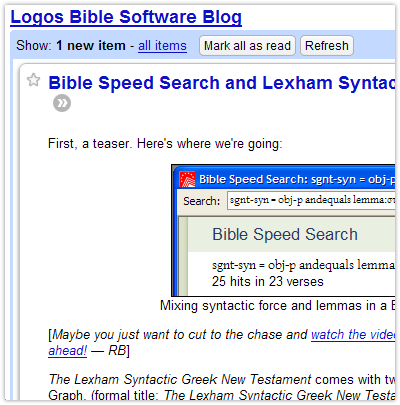 To fix the problem, make sure you are subscribed to our FeedBurner feed: http://feeds.feedburner.com/LogosBibleSoftwareBlog. This way you're sure to see the author right below the title of the post.
Even if you aren't having this problem, please take a minute to make sure you are subscribed to our FeedBurner feed. It has additional features at the bottom of each post. It also allows us to track the types of things you find interesting and, as a result, provide you with better content.
To learn more about RSS, how to subscribe, and what other feeds we have, be sure to visit https://www.logos.com/about/rss and check out our previous blog post RSS in Plain English.