Last week I started a series on data types. If you haven't yet read the first post, Understanding Data Types: Introduction, take a minute to look it over. It'll give you some very basic starting points that will help you with this post and the following posts.
According to Eli Evans, one of our information architects, "datatypes and keylinking are the two most important concepts in the Libronix DLS." If you're like I was prior to digging into this recently, you're probably missing out on some of the power of Libronix by not fully understanding these key concepts. Eli's discussion of data types is hard to improve upon, so I'll just borrow from it and put some of the ideas in my own words. I encourage you to read his post as well.
What Is a Data Type?
A data type is a grouping or association of similar data. There are several different categories of data types. Two of the most common ones, which we'll discuss in future posts, are language data types (e.g., a Greek word in an English article) and reference data types (e.g., a Bible reference or a Josephus reference).
A data type is not resource specific. Some of the links in Libronix resources will take you to a specific location in a specific resource. There's only one place the link can go, and if you don't have the resource, it won't go anywhere. These are not data type links. There's a second type of link that doesn't point to a specific place in a specific resource but rather to a data type that often has several suitable destinations. A great example of this is Bible reference links. Clicking on most Bible references doesn't take you to a specific Bible like the KJV, but to your preferred Bible, which you can set in Tools > Options > Keylink by selecting Bible from the Data Type drop down and promoting your favorite Bible from the list of resources at the bottom. (You can also select your preferred Bible by clicking "Customize View" on the Logos home page.)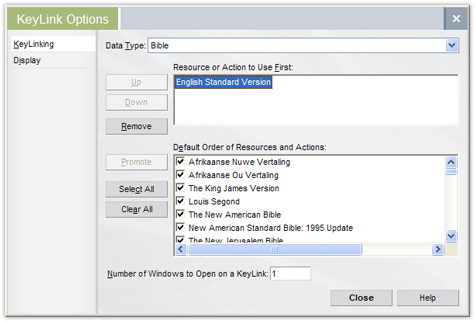 This is one of the benefits to data types: you can choose your keylink targets and prioritize them according to your liking.
What Is a Keylink?
It might be helpful to think of keylink and keylinking as just a fancy way of referring to looking stuff up—things like words (or other bits of text like abbreviations) or references. Reference keylinks look like hyperlinks on web pages (but without the underlining). Clicking them will execute them and open the keylink target based on what resources you have and how you have prioritized them. But just about every word, even if it is not hyperlinked, can be a keylink, as long as there is an appropriate keylink target. (BTW, you execute a keylink that doesn't look like a hyperlink by double clicking it or by choosing "Selected Text" > "Execute Keylink" from the right-click menu.)
What Is a Keylink Target?
A keylink target is a resource that contains relevant data for a certain data type. So any version of the Bible would be a keylink target for John 1:1. Any English dictionary (as well as any Bible dictionary or encyclopedia) would be a keylink target for an English word. Any Greek lexicon would be a keylink target for a Greek word. And any edition of the Apostolic Fathers would be a keylink target for an Apostolic Fathers reference.
There are two ways to find out if a certain resource can be a keylink target for a given data type. The first is to look in About This Resource, which you can access from the right-click menu in My Library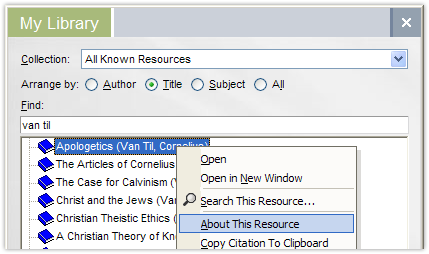 or, with a resource opened and selected, by clicking Help > About This Resource.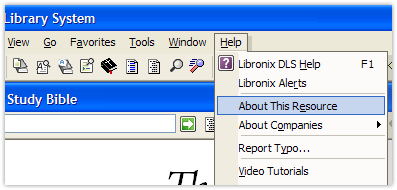 Look for checkmarks in the column titled Keylink Target.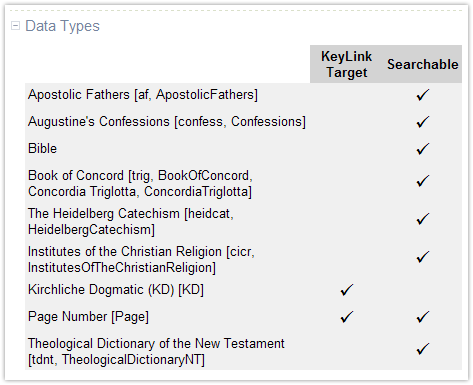 The second way is to look at the data type in Tools > Options > Keylink. Select the data type from the drop-down box (e.g., Greek), and look at the resources listed under "Default Order of Resources and Actions." These are the resources that Libronix will use to look up that data type. You can promote and prioritize them however you want for each of the data types.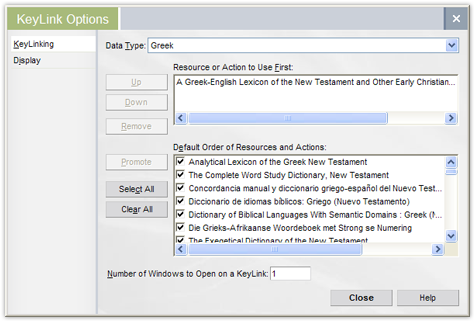 What Does It Mean that a Data Type Is Searchable?
In About This Resource under the Data Types section, there is also a column titled Searchable.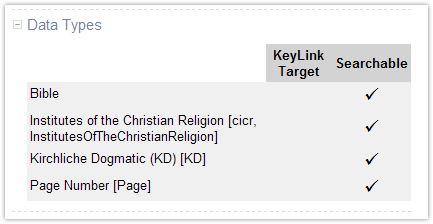 This has to do with reference data types, like Bible references, Calvin's Institutes references, etc. A checkmark is telling you that you can use the Reference Browser to search for all the places where a given reference or range of references is cited in that particular book or series of books. This is possible for two reasons: (1) our team of book designers and book developers has meticulously tagged these references, and (2) these references are data types. There are most likely other links not listed here because they are not data type links but links to specific locations in specific resources (for the difference, see above under "What Is a Data Type?"). I pointed out one example of this kind of searching in the blog post on the Works of Cornelius Van Til. In a future post, I'll show some other scenarios where this can be incredibly useful.
Here are some related posts you might find helpful.
Other posts in this series: