It's no surprise to regular readers of this blog that we like to have fun. While our fun usually involves food (our 2008 Salsa Cook-Off is tomorrow, by the way), sometimes it's just a good prank.
Vincent Setterholm, who works in our design and editorial department and contributes to the blog on occasion, has been enjoying a pretty good chunk of vacation time. (Some of us were starting to wonder if he still worked here.) David Mitchell, one of our developers, and Ben Swier, our systems administrator, decided that this was the perfect opportunity to decorate Vincent's office for him.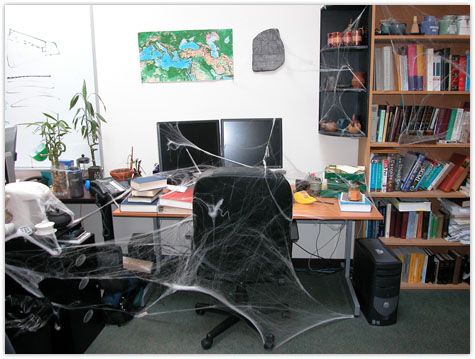 A prank like this doesn't have to be in response to anything, but in this case there was a little payback going on. Last September on the day of the launch of a well-known video game, Vincent decided he'd have a little fun with Ben. He hid Ben's brand new copy of the game (simply moving it 4 feet from its original resting place) while Ben was out of his office. Ben had been eagerly awaiting that day and had big plans to celebrate with some friends, so he was more than disappointed when it suddenly disappeared. Vincent was kind enough to show Ben where it was later that day, but enough time passed to warrant this nice little decoration party.
Vincent returned to the office yesterday. When I asked him if he had an official response to share with you, our blog readers, he declined to comment. He did point out, though, that his poor plants didn't get any water in his absence.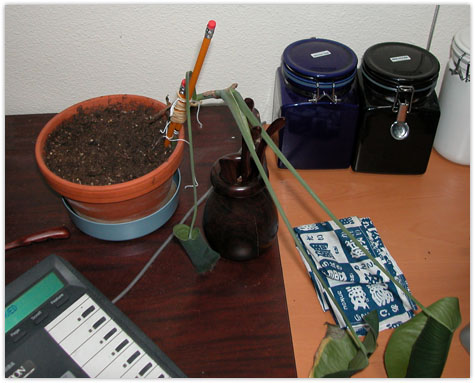 Someone even went so far as to take note of their dire situation but do nothing about it.