We love having a passionate group of users who talk about us and promote us on their websites and blogs. Word of mouth promotion from happy customers goes a long way in helping Logos grow. And that growth allows us to make better software and offer even more top-notch books. So a big thank you to all of our vocal users, new and old, for spreading the word about Logos Bible Software! We're grateful to have such an enthusiastic user base.
Add the Logos Blog to Your Blogroll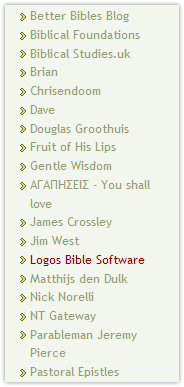 One additional way that you can really help us out is by adding the Logos blog to your blogroll (and adding a link to www.logos.com in your web links, if applicable). Many of our users who blog already have us in their blogrolls, but perhaps some of you have just never thought about it. If you like the Logos blog and benefit from what you read here, please add us to your blogroll.
We'll even do you a favor in return. Our blog post on Monday, April 28, will feature all of the bloggers who have us in their blogrolls—at least all the ones we know about. Make sure to let us know by leaving a comment on this post and sending an email to blog@logos.com with Blogroll in the subject line. (Make sure to do both in case one doesn't make it.) What if we're already in your blogroll? That's okay. We'll make sure you make the list either way.
The deadline to receive your submission is midnight (PST) on Friday, April 25. Please leave your comments and send your emails by then.
One final thing: if you can work "Bible Study" into your link text somehow, that would be great.
Let the linking begin!