I often find myself turning to Libronix to learn more about important people from church history—from Augustine to John Owen to Karl Barth. In my last blog post, I included a pretty hefty list of articles on John Owen that I found in my Libronix library. Several people commented to me how helpful they found that list and wished they had something like that for all the "famous" people in the history of the church.
While I can't promise that we'll be able to make lists like that for you, I can give you some pointers on how you can build them for yourself. Here's the process that I took when I looked for articles on John Owen.
Step 1: Browse My Library
First, I looked for any resource titles in My Library that mentioned John Owen. Depending on how common the name is that you're looking for, you may be able to try just the last name. If that's too broad, add the first name, but keep in mind that the individual may have a middle initial or middle name included. Doing this with Owen gave me one good result: John Piper's book Contending for Our All: Defending Truth and Treasuring Christ in the Lives of Athanasius, John Owen, and J. Gresham Machen.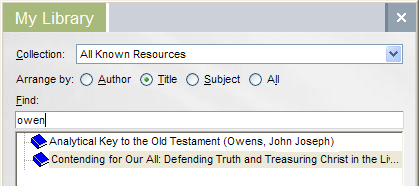 Step 2: Topic Search in Biographies Collection
My second step was to do a topic search for Owen in my biographical collection. One of the first collections I created when I got Logos was a collection of resources with biographical entries. Here are the current contents of my collection:
Baptist Biographies
The Columbia Encyclopedia
Encyclopedia of the Reformed Faith
If you think you'd find this collection helpful, feel free to download it and put it in your My Documents\Libronix DLS\Collections folder.
To do a topic search for Owen, you would type topic(Owen), topic("Owen, John"), or topic("John Owen"). The most comprehensive results were with topic("Owen, John").

But it's probably easier to use the Topic Browser. Typing Owen and clicking Search shows me both "Owen" and "Owen, John" as topics. It takes the guessing out of it and makes it a simpler process.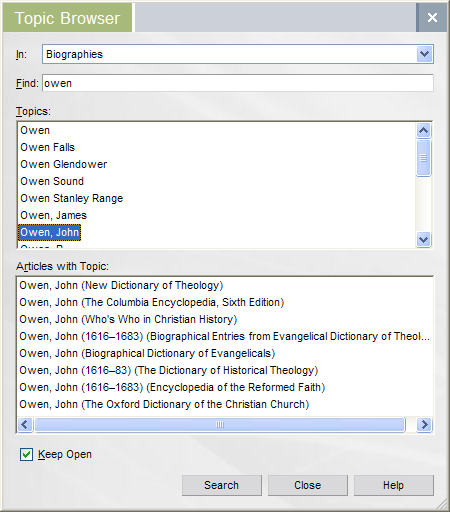 Step 3: Search in Biographies Collection
Third, I did a search for "John Owen" OR "Owen, John" in my biographical collection. This will give me hits were Owen is mentioned in the content of the article, but may not be in the title.

Step 4: Topic Search in All Available Resources
Fourth, I did a topic search for Owen in All Available Resources. This turned up a number of great hits in the theological journals and a few others from resources that weren't in my biographies collection. I chose to do All Available Resources instead of All Unlocked Resources because I like to know if any of my locked books have relevant material in them. It's good to know what great resources I'm missing out on, and this is one way to find them. Note that you'll need to search for topic(Owen) as well as topic("Owen, John") to get a complete list, since some articles refer to Owen by last name only. As with step two, it's probably better to use the Topic Browser for this.

Step 5: Search in All Available Resources
Finally, I did a search for "John Owen" OR "Owen, John" in All Available Resources to see if I had missed anything significant. Again, this will turn up a lot of hits, but if you want to be comprehensive, this search is essential. I found a couple additional relevant articles this way.

Two tips for working through big lists like this efficiently: (1) when you click the plus sign next to the book title, skim the headings for the name you are looking for (not all headings are necessarily topically tagged), and (2) give attention to the articles with the highest number of hits as they are more likely to be relevant.
Now, if you know you want exhaustive from the start, you could skip right to step five since it should give you all the results from all of the preceding steps. But often you don't know how much information you're going to find—or even how much information you want—until you get into the process, so it's usually good to start out small and work your way up. The most targeted list of hits will probably be step two, which is the method I typically use when I want quick results and don't need to be exhaustive.
What else would you do to find biographical information in your Libronix library? What other resources would you add to a biographies collection? Why not create a list of articles in Libronix about your favorite person from church history and post it on your blog? Let us know if you do.