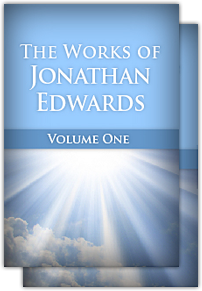 Jonathan Edwards' (1703–1758) massive importance as a theologian, pastor, and philosopher is hard to overstate. More than 250 years after his death (he died of smallpox on March 22, 1758) he is still the subject of an enormous amount of theological literature. The bibliography of resources below speaks volumes about his ongoing—and even growing—influence.
Soon you will be able to have access to Edwards' most important writings in your Libronix Digital Library System. The Logos edition is based on the standard 1834 edition that was reprinted by Banner of Truth and Hendrickson, both of which are still in print.
When we put Edwards up on Pre-Pub a few days ago, someone in our newsgroups asked if we'd be including Henry Rogers' "Essay on the Genius and Writings of Jonathan Edwards," which was added to the beginning of the Hendrickson edition to set it apart from the Banner of Truth edition.
I've been waiting for this one for a while too! Just a few days ago I was lamenting the fact Logos hasn't offered it yet, so this is a pleasant surprise!

. . .

One thing I'd like to point out, I have the Hendrickson edition and there's an essay called "Essay on the Genius and Writings of Jonathan Edwards" that takes up about 60 pages that doesn't seem to be included in the forthcoming Logos edition. Will that be included?

Regardless, thanks for finally offering this one!!!

—Greg
Since we always like to provide you with the biggest and best editions possible, adding this essay was an easy decision. So make sure to thank Greg for suggesting it and helping us hunt down a copy of the essay. And remember, it pays to give us suggestions like these.
Head over to the product page to put in your pre-order for The Works of Jonathan Edwards (2 volumes).
About Jonathan Edwards
"The greatest philosopher-theologian yet to grace the American scene." —Perry Miller

"America's most important and original philosophical theologian." —William Wainwright

"Edwards was a man born out of time, whose contributions were so prescient of the modern age that the present day is only just beginning to catch up with him." —Paul Helm

"The God-enthralled vision of Jonathan Edwards is rare and necessary, because its foundations are so massive and its fruit so beautiful. May the Lord himself open our eyes to see it . . . and be changed." —John Piper

"Edwards was extraordinary. By many estimates, he was the most acute early American philosopher and the most brilliant of all American theologians." —George Marsden

"No man is more relevant to the present condition of Christianity than Jonathan Edwards." —D. Martyn Lloyd-Jones

"All his life he fed his soul on the Bible; and all his life he fed his flock on the Bible. Humanly speaking, he had a unique gift for making ideas live by the luminous precision with which he expounded them." —J. I. Packer

"Pore through those pages of Edwards's great book, and you will find much to enlighten your mind and warm your heart. Indeed, you will find truths that will bring you joy from now throughout eternity." —Mark Talbot
To learn more about Jonathan Edwards in your Libronix library, see the following articles and books:
For even more, check out these journal articles: