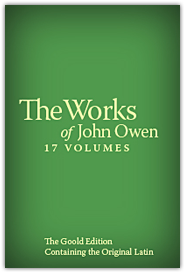 John Owen (1616–1683) is one of the most important Protestant theologians of all time. As both a pastor and a theologian, John Owen brings together some of the best in rigorous theological analysis and warm and vibrant spirituality making his writings food for both the mind and the heart.
Owen scholar Carl Trueman considers Owen "not only the greatest theologian of the English Puritan movement but also one of the greatest European Reformed theologians of his day, and quite possibly possessed the finest theological mind that England ever produced" (Biographical Dictionary of Evangelicals, 494). According to I. Breward, it was Owen who was "the great systematic thinker in the Puritan theological tradition" (New Dictionary of Theology, 552).
Our users have requested Owen for years, and we're excited to finally make his works available. We've been in contact with several Owen scholars, and it quickly became clear that we needed to release the original Goold edition, which contains not only all the contents from the Banner of Truth reprint edition, but also Owen's original Latin works (i.e., part of volume 16 and all of volume 17).
The introductory Pre-Pub price is only $174.95. That's an enormous savings compared to the print edition—without even factoring in the value of the added Latin material. But this price will last only until April 4, 2008, at which time it will jump up to $224.95. Place your order now to lock in this incredibly low price, and help us spread the word to others!
If there is enough interest in Owen's works, we'll eventually put his 7-volume Hebrews commentary up on Pre-Pub as well. So put in your order, and tell your friends.
To learn more about John Owen in your Libronix library, see the following articles: