Logos is pleased to announce another first in the study of the Bible: a visually marked-up discourse analysis of the entire New Testament in both English and Greek!
Dr. Steve Runge has spent countless hours studying the devices that speakers and writers of all languages use to communicate and tagging those devices in every book of the New Testament. Most of us use many of these devices in our everyday communication, but figuring out what they are, what they signify, and how to identify them in the Bible is something that the vast majority of people are not equipped to do.
The Lexham High Definition New Testament
For the English-only reader, we've created the Lexham High Definition New Testament (LHDNT), which comes with three Libronix resource files:
Lexham High Definition New Testament: ESV Edition
Lexham High Definition New Testament: Glossary
Lexham High Definition New Testament: Introduction
The text of the NT is marked up with visual representations for the 15 different devices. Hovering over any of the devices gives you a pop-up window with a concise definition, allowing you to stay right in the text. Right clicking on the device gives you the option to jump to the glossary for a definition, explanation, illustrations, and questions to ask yourself to understand why the author used that specific device. Since all of these devices are tagged, you can even search for the various devices across the entire NT or in specific corpuses of Scripture. And for those who want to go even further in their study, the introduction to discourse grammar will give you an excellent starting point.
The Lexham Discourse Greek New Testament
Those with even a little knowledge of Greek (or plans to learn some Greek in the future) will want to purchase the Lexham Discourse Greek New Testament (LDGNT) instead. The LDGNT is the Greek counterpart to the LHDNT, and it has several advantages over the English version.
The analysis is more detailed. Instead of 15, more than 30 devices are annotated in the Greek text, allowing for even greater precision. The glossary and introduction are larger and more detailed as well.
The Greek version has a more powerful search interface making more advanced queries possible.
Finally, the LDGNT includes all three resources from the LHDNT, enabling you to view the Greek and the English side by side—the perfect setup for those who are still learning Greek and for those whose Greek is a bit rusty.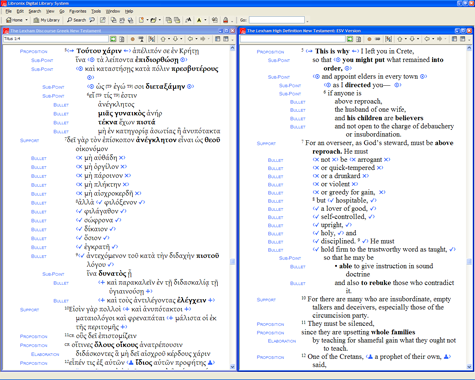 Find out more and place your order at the two product pages:
For even more information, read Dr. Runge's three blog posts: