Morris Proctor is well known as an authorized trainer for Logos Bible Software. For more than a decade, he has been traveling around the country holding Camp Logos events where he trains people how to take advantage of the power of the Libronix Digital Library System.
In May of 2006, we decided to start a blog for Morris to share some of his helpful training tips. Twice a week—every Wednesday and Saturday—there was something new to help users learn how to use Logos better. Here are some example posts:
The Tips & Tricks blog somehow managed to fall off the radar several months ago. Users have expressed how much they miss it, so we're finally starting to add new content on a regular basis.
Starting today, you'll again see regular tips from Morris. If you don't already have it bookmarked, head on over to http://tips.logos.com/ and add it to your favorites. If you'd rather see it in your RSS reader, the feed to subscribe to is http://feeds.feedburner.com/MorrisProctorsTipsTricks. For your convenience, we've also built it right into the blog section of your Logos home page.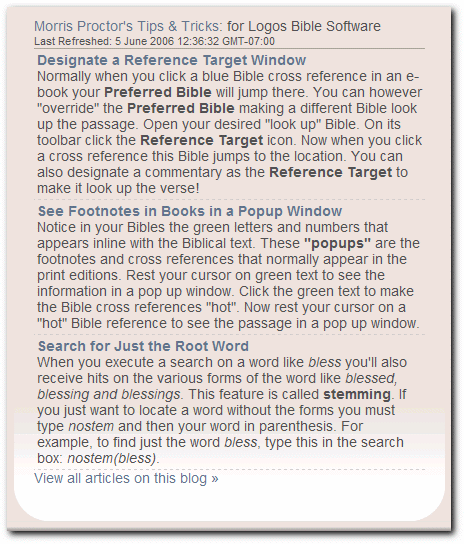 Today's post is entitled "Seeing Multiple Devotions on the Home Page." Check it out.