I'll admit it; I'm hopelessly addicted to reading (and writing) blog posts; particularly those having to do with Biblical Studies and especially those having to do with the intersection of Biblical Studies and technology. And when they can mix in the Greek New Testament, well, then I usually have to clean the saliva off of my keyboard.
So when I saw Mark Hoffman post a question and an answer about finding the co-occurrence of a Louw-Nida domain and a particular morphological criterion (here where Domain 25, "Attitudes and Emotions", occurs with an imperative verb), a light went off in my head. The in-development Lexham Greek-English Interlinear New Testament, which has every word tagged with disambiguated Louw-Nida references (described more fully in this previous post), can do this fairly easily. You can even do it in one search with the Bible Speed Search dialog. Here's the query:
louw in LN25 andequals LogosMorph in V??M??
And here are the results, 122 hits in 108 verses: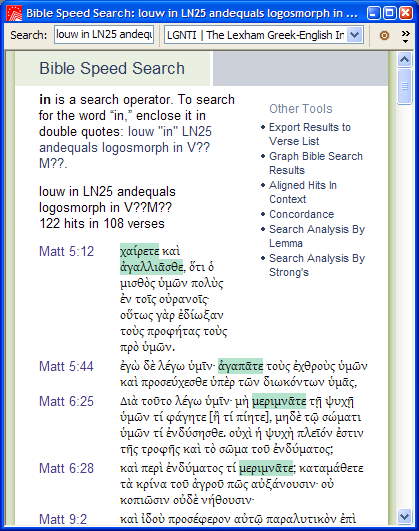 And, since we haven't yet released the Lexham Greek-English Interlinear New Testament (though you can buy it on pre-pub!), I thought I'd include a video on how this search works and some further things you will be able to do with the search data once it is available.
(Pardon my voice; I must've slept with my mouth open last night. I woke up with a dry throat and the ability to sing with a Johnny Cash style voice without even trying.)