BibleTech:2008 was an awesome event and a huge success. A big thanks to all of the speakers and attendees! It was fun putting faces with names and chatting over meals with so many people who share a passion for the Bible and technology.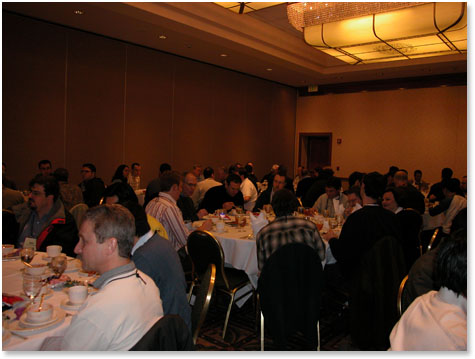 We realize that many of you wanted to attend, but were unable to. Well, we have some great news for you.
First, the audio for most of the sessions is now available at the BibleTech website. Go to the Sessions page and look for the MP3 Audio links. We also added a directory of participants, which includes both speakers and attendees who wanted their names to be listed. If you went to the conference and didn't get the contact info for someone you wanted to get in touch with, check the directory. If you went and want to have your name added to the list, please send an email to bibletech@logos.com and let us know.
Also, based on the great feedback that we got, we are already making preparations for BibleTech:2009. So start making your plans to be with us next year. We'll provide you with more details when we have them. If you'd like to be added to the BibleTech email list to receive updates and information about the next BibleTech, send us an email.
If you want to read more about BibleTech, search for bibletech and bibletech08 at Technorati and Google Blog Search. Many of the speakers have posted PowerPoints and PDFs of their presentations. If you're a World Magazine subscriber, you'll want to check out their article about BibleTech.
We look forward to seeing you at BibleTech:2009!