Many people become Logos users through the encouragement of a friend. I bought my first Logos package several years ago in seminary thanks to the excitement of a fellow seminarian who had just become a Logos user. He was convinced that Logos was the best Bible software available. In just short time he had persuaded me, and I was an owner of Scholar's Library: Silver, the top end base package at the time.
It wasn't long before I too was spreading the word to friends of mine, several of whom also ended up buying one of the top end base packages. No doubt many of you are users today because of an enthusiastic friend, and many of you have in turn been responsible for introducing others to Logos. It's for enthusiastic users like you that we created the Refer-a-Friend program.
Refer a Friend!
The Refer-a-Friend program a great way for both you and your friends to save money at Logos.com. When you use the Refer-a-Friend program, your friend will save 25% on any of the base packages. If he purchases one, you will receive a $25 gift certificate that you can spend at Logos.com.
If you own one of our base packages, sharing the love is an easy three-step process. Make sure you're logged in to your account, go to www.logos.com/referafriend, and you're ready to get started.
Step 1
Enter your friend's email address and name (last name is optional). Your friend's email address is safe with us. We won't share it with anyone, and we'll send him only two messages, which you will be able to review before they are sent. Click "Next" to go to step two.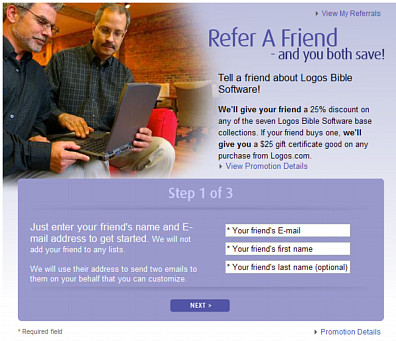 Step 2
Review and customize the first email that your friend will receive. Here's the default text, which automatically includes both your name and your friend's name:
Hey Joe,
I was just surfing the Logos Bible Software website, and I saw a feature that lets me send coupons for their new Bible software to my friends. I thought you might want to check it out, because with the special coupon code you can save 25% off any one of their new base packages right now.
So keep an eye out for the fancy email from Logos Bible Software; it should be there soon.
In the meantime, watch the video demo at: https://www.logos.com/demo
In case you don't get the fancy email from Logos, or if you are ready to buy right now, here is the coupon code to use at checkout after you add a package to your cart: XXXXXXXXXXXXX
If you have any questions, just let me know. I have been using Scholar's Library: Gold – Logos Bible Software 3, and it is great!
-Phil Gons
P.S. If you buy a base package from the Logos website using this coupon code, I'll get a gift certificate. So please be sure to place your order at the Logos.com website, not by phone!
After you've reviewed the email and made any changes, click "Next" to proceed to the final step.
Step 3
Finally, choose a collection to recommend to your friend. You can recommend the one you own, or you may want to recommend another package if you think it'll be better suited for your friend's needs. Before you click "Send," feel free to preview both emails that your friend will receive. The preview will appear in a pop-up window, so make sure to disable your pop-up blocker or add www.logos.com to your list of approved sites. Once you've reviewed the emails, click "Send." Your friend will have the emails in no time. Repeat this process as many times as you want.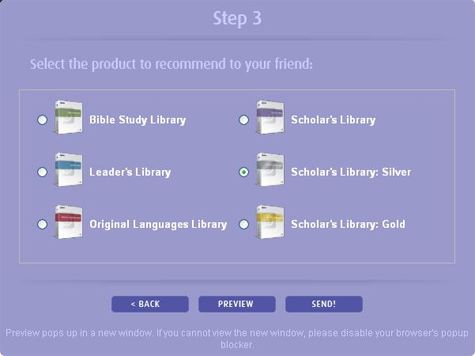 View My Referrals
To see if any of your friends have placed an order yet, click on "View My Referrals" at the top right side of the page.

Your Gift Certificate
As soon as one of your friends orders a base package, we'll send you an email with a gift certificate that you can use on your next Logos.com order. Don't worry; we've got you covered if you lose your gift certificate email. All of your gift certificate codes will be listed on your My Referrals page as well.
So keep on spreading the word to your friends about how much you love Logos Bible Software, but make sure to use the
Refer-a-Friend program
so you can both enjoy the savings!