A user sent me a question last week, and I thought some of our blog readers might benefit from this little exercise.
Here's what he wanted to do:
I was wondering if it would be possible to do the following: search for the occurrences of an English word and have it report the original language transliterated word for each occurrence. For example, say I'm teaching on the Gospel of John. I want to find all the occurrences of "love" and identify the part of speech and original language word. . . . Is there an easy way to do this?
There are several ways to accomplish this, but the easiest, especially for someone with minimal Greek knowledge, is to use the ESV English-Greek Reverse Interlinear New Testament.
Here are the steps I took:
1. In Libronix, click Search > Greek Morphological Bible Search.
2. For Bibles, select the ESV NT Rev. Int. | The ESV Greek-English Reverse Interlinear New Testament.
3. For the Range, type John.
4. Type lov* into the Search box. (The * enables you to find love, loves, loved, and loving. To exclude any potential false hits like lovely, you could type love OR loves OR loved OR loving in place of lov*. In this case, they yield identical results.)
5. Click Search. You should get 57 occurrences in 39 verses.
6. Click on the blue box next to any of the references in the search results to see that occurrence in the ESV Reverse Interlinear. You will be able to see the transliteration and part of speech for all of the words.
Make sure to turn on the appropriate interlinear levels. Click View > Interlinear and check the ones that you want to display.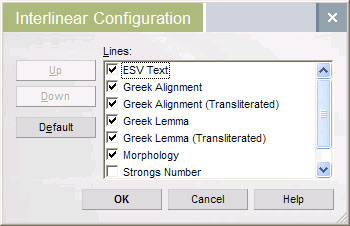 Now, you could also accomplish this by searching any Greek text with morphological tagging, but for those most comfortable with the English, seeing the search results in the ESV might be the best.
Instead of searching for lov* (or love OR loves OR loved OR loving), you could also search for [φιλέω=] OR [ἀγαπάω=] OR [ἀγάπη=]. With this example, you get identical results either way.
How would you do this search?
Update: Searching for lov* is unnecessary because Logos searches on the stem of love by default. So searching for love will yield the same results as lov* or, in this case, love OR loves OR loved OR loving.