Over a year and a half ago we launched the ground-breaking Logos Bible Software 3. It was and continues to be the most advanced collection of digital tools and resources on the planet for studying the Bible. Logos Bible Software 3 added more than 100 new features and updates to the Libronix Digital Library System and brought even greater value to our base packages by including tons of new books, addins, and other data! (Check out the Top 20 New Features of Logos 3!)
Last Chance for the EARLYBIRD Discount!
Thousands of you have already upgraded and are taking advantage of all that Logos Bible Software 3 has to offer, but many of you are still missing out! This is a call to upgrade before we finally end our "EARLYBIRD" discount permanently. We've extended this special for a long time now because we wanted to give everyone the chance to upgrade at a discounted rate, but we plan to discontinue it for good on December 31, 2007. Don't miss out on this final chance to upgrade with the "EARLYBIRD" discount and get all the added value in our new base packages!
Updating vs. Upgrading: What's the Difference?
Some customers get confused between updating and upgrading. As a result, many are missing out on most of what Logos Bible Software 3 has to offer! Let me explain the difference.
Updating
Updating deals with the core Libronix software engine and is free. When you update, you get the latest version of the Libronix Digital Library System and the most up-to-date version of your digital books. You can easily update from within Libronix by clicking on Tools > Libronix Update or from the update page on the website. Run the Libronix Update as often as you want, but we recommend checking for new updates at least once a month. If you haven't updated your software in a while, do it now and see what you've been missing out on!
However, if you only update and don't upgrade, you're missing out on most of the new features of Logos Bible Software 3!
Upgrading
Upgrading deals with the base packages and is not free. When you upgrade, you get tons of new books and tools that will allow you to take full advantage of Logos Bible Software 3. You are not repurchasing what you already own. You are paying a customized upgrade discount price for the new books and addins that you don't already have. Our customized upgrade discounter gives you upgrade prices for the various base packages taking into consideration what base package you already own and even some of the other titles that you may have purchased. Visit https://www.logos.com/upgrade to find out what your upgrade options are!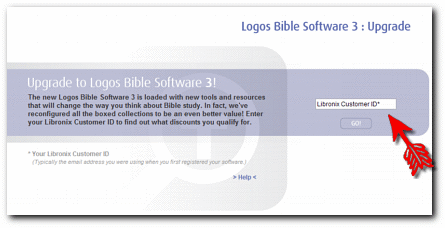 Is It Worth It?
Our base packages are among our most heavily discounted collections. You get thousands of dollars worth of resources for just a fraction of the cost. They are an amazing value. If you don't want to take our word for it, check it out for yourself. In order to make an informed decision, you'll want to see (1) what you are going to get and (2) what it is going to cost you.
What Will You Get, and What Will It Cost?
Visit the product page for the collection you already have and look for the
to find out what has been added to that base package.
You'll see that the
resources make even upgrading from the old version to the new version of the same base package a tremendous deal. For example, if you own only the Bible Study Library, you can upgrade for as little as $34.66! You should at least upgrade to the new version of the base package you own. But most of you should probably consider making the jump up to one of the higher base packages where you get an even better deal!
After you've seen all the
items that were added to your base package, check the comparison chart to see all the additional resources that the larger collections add! The best value is Scholar's Library: Gold. It's not for everyone, but it may be for you.
Take advantage of your upgrade options before they expire!
Library Builder: Volumes 4-6
Also, don't miss out on your chance to buy Library Builder: Volumes 4-6. It is available only through the end of the year! Find out why this is such an amazing deal!